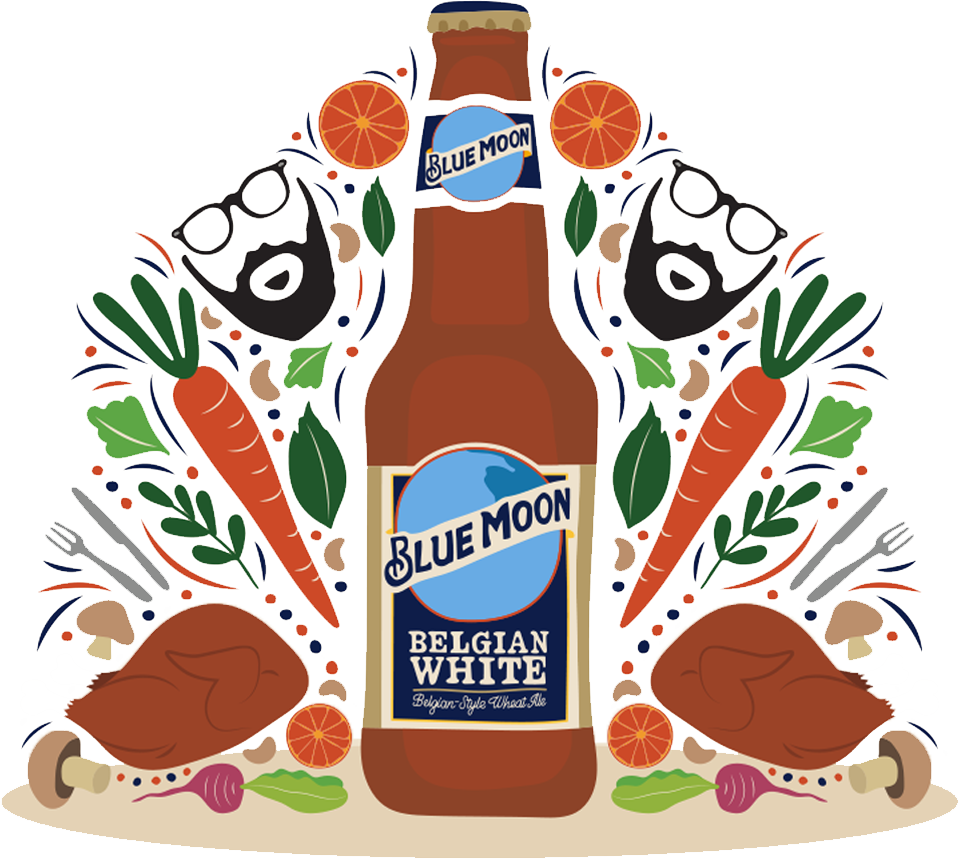 A BLUE MOON AND BABISH THANKSGIVING
PLUS, 50% OFF A 12-PACK OF BLUE MOON*

ANDREW REA AND SOHLA EL-WAYLLY WILL SHOW YOU HOW TO BRIGHTEN UP YOUR THANKSGIVING DINNER WITH BLUE MOON-INSPIRED RECIPES.



Watch the livesteam on the Babish Culinary Universe YouTube channel for step-by-step instructions on how to prepare these simple yet tasty recipes using Blue Moon's bright flavors to liven up your dinner table.
Here's the shopping list for the ingredients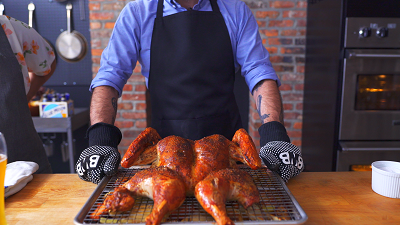 SOUTHWESTERN
SPATCHCOCK TURKEY
INGREDIENTS
For the option dry brine:
1 teaspoon salt per pound of turkey
For the southwestern compound butter:
16 tablespoons (2 sticks) unsalted butter, softened, divided
2 tablespoons garlic powder
2 teaspoons cayenne
1 teaspoon cumin
2 teaspoons coriander
1 tablespoon kosher salt
For the turkey:
2 onions, quartered (optional)
6 stalks celery, chopped into 4-inch pieces (optional)
4 carrots, chopped into 4-inch pieces (optional)
1 turkey, preferably 12-15 lbs
Kosher salt, as needed
Black pepper, as needed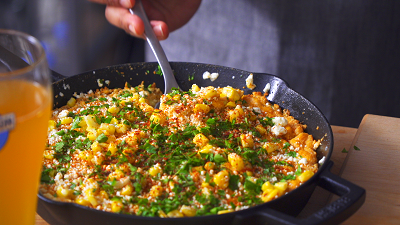 ELOTE SPOON BREAD
WITH CHILI AND LIME
INGREDIENTS
2 tablespoons mayonnaise
1 ⅔ cups fresh or frozen corn kernels
1 ¼ cup crumbled cotija (or paneer, farmers cheese or cottage cheese), divided
2 cups whole milk
½ cup stone-ground cornmeal
1 tablespoon sugar
1 teaspoon kosher salt
2 teaspoons Arbol or ancho chili powder (or 1 tsp cayenne)
1 teaspoon baking powder
2 tablespoons unsalted butter
3 large eggs
2 limes
½ cup cilantro, chopped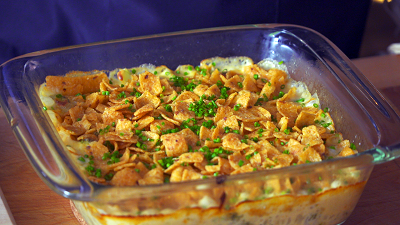 QUESO BROCCOLI
CASSEROLE INGREDIENTS
4 tablespoons unsalted butter, divided
1 onion, finely chopped
3 garlic cloves, minced
1 teaspoon kosher salt
2 teaspoons ground cumin
½ teaspoon cayenne powder
2 cups milk, divided 
1 tablespoon cornstarch 
8 oz. Velveeta cheese, shredded
8 oz. Monterey Jack cheese, shredded
¼ cup pickled jalapeños, finely chopped
⅓ cup chives, finely chopped
1 bag frozen stem-in-bag broccoli
1 cup corn chips, lightly crushed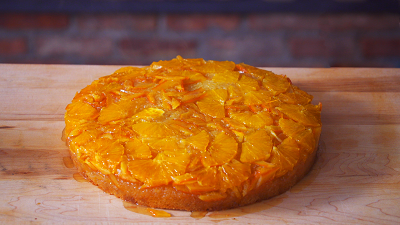 BLUE MOON
CARAMEL ORANGE CAKE
INGREDIENTS
For the caramel topping:
5 tablespoons (70 grams) unsalted butter, divided, plus more for greasing pan
1 ¼ cup plus 2 tablespoons (250 grams plus 28 grams) granulated sugar
2 medium oranges
1 cup Blue Moon Belgian White Wheat Ale
¼ teaspoon kosher salt
For the cake:
½ cup (112 grams) unsalted butter, at room temperature
1 cup (200 grams) granulated sugar
4 teaspoons finely grated orange zest
1 teaspoon baking powder
½ teaspoon baking soda
¾ teaspoon kosher salt
3 large eggs, at room temperature
1 teaspoon pure vanilla extract
2 cups (250 grams) all-purpose flour
1 cup Blue Moon Belgian White Wheat Ale, at room temperature
Previous
Next
COOK ALONG WITH BLUE MOON
THIS THANKSGIVING
 
*Beer purchase required. Offer valid only ONE (1) 12-pack of Blue Moon (any variety, bottles or cans). Must be 21+ to redeem. Purchases must occur between 11/12/20 through 11/26/20. Receipt must be submitted by 12/03/20, or until supplies run out (whichever comes first). Limit one rebate per phone number. Limited quantities available. Offer valid in AK, AZ, CA, CO, CT, DC, DE, FL, GA, IA, ID, IL, KS, KY, MA, MD, ME, MI, MS, MT, ND, NE, NH, NJ, NM, NV, NY, OH, OK, OR, PA, RI, SC, SD, TN, VA, VT, WA, WI, and WY. Not valid in PA on-premise accounts. Void where prohibited by law and in AL, AR, HI, IN, LA, MN, MO, NC, TX, UT, and WV. This rebate may not be combined with any other offer. Proof of purchase must accompany rebate submission. Receipt photo must include retailer name, product name or item code for required purchase items. Rebate payment sent via Paypal or Venmo. If you do not have a PayPal or Venmo account, you will receive a notification with instructions to create an account and must accept the payment within 30 days or rebate funds will be forfeited. Msg & data rates may apply.
 
This rebate is void if assigned, sold, transferred, duplicated or reproduced in any way. Tax remains the responsibility of the consumer. Requests from groups, clubs, organizations or any other group purchase will not be honored or returned. REDEMPTION OR HANDLING OF THIS REBATE NOT ACCORDING TO ITS TERMS CONSTITUTES FRAUD. Employees and officers of Molson Coors, affiliated companies, licensed retailers, distributors and family members residing in the same household as any of the above are not eligible. Molson Coors reserves the right to require additional information/identification prior to honoring rebate request and to reject non-conforming rebate requests without liability of any kind.  
Subject to Koupon Media Privacy Policy https://www.kouponmedia.com/privacy. For rebate status/inquiries, email [email protected]