Citrus Shrimp Cocktail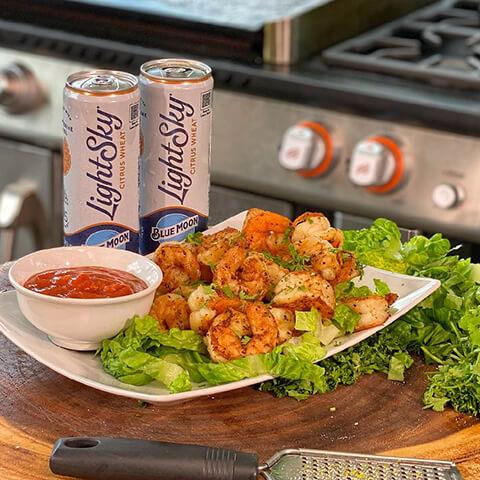 PAIRS WITH BLUE MOON® LIGHTSKY CITRUS WHEAT
The beer's real tangerine peel perfectly complements zesty cocktail sauce and brightens delicate shrimp.
Ingredients
2 pounds peeled and deveined large shrimp
Blackstone Lemon Peppercorn Seasoning
Olive oil
A splash of Blue Moon® LightSky
2 cups shredded romaine lettuce
2 tablespoons chopped cilantro
 
Cocktail Sauce:
1/3 cup chili sauce
¼ cup ketchup
2 tablespoons prepared horseradish
The zest of 1 orange
The zest of 1 lemon
The zest of 2 limes
A splash of Blue Moon® LightSky Citrus Wheat
Preparation
In a large mixing bowl, add all of the cocktail sauce ingredients and mix to evenly combine. Refrigerate for later.
In a separate bowl, add the shrimp with a drizzle of oil and season with the Blackstone Lemon Peppercorn Seasoning evenly.
Heat your Blackstone to medium-high heat. Add the shrimp and cook for 3-5 minutes or until fully cooked and slightly crisp. Once the shrimp is fully cooked, add a splash of Blue Moon® LightSky to deglaze the shrimp.
To serve, add some of the cocktail sauce to a small serving bowl and place the shrimp on a serving platter. Garnish with the chopped cilantro and serve hot or cold with a Blue Moon® LightSky.
Serves: 4