Chicken, Brie and Pear Flatbread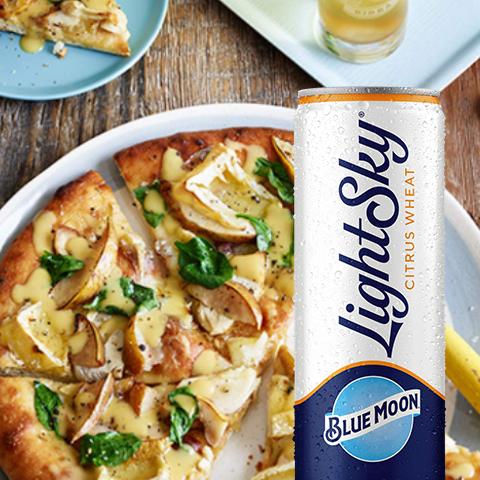 PAIRS WITH BLUE MOON LIGHTSKY CITRUS WHEAT
Hints of real tangerine peel deliciously contrast creamy Brie while complementing sweet honey and pear.
Ingredients
Flatbread
1 14-ounce pizza dough, thawed
1 tablespoon extra virgin olive oil
1 rotisserie chicken breast, thinly sliced
4 ounces Brie cheese, sliced
½ cup baby spinach
10 thin slices Bartlett pear
Flaked sea salt
Ground black pepper
 
Dressing
2 tablespoons extra virgin olive oil
1 ½ teaspoons champagne or white wine vinegar
1 teaspoon Dijon mustard
½ teaspoon honey
Preparation
Preheat oven to 500°F.

On a well-floured work surface, roll dough into a 14-inch circle and brush with oil. Transfer to a baking stone or sheet. Bake for 10 minutes then remove from the oven and top with chicken, Brie, spinach and pear. Return to the oven and bake until crust is golden and the cheese just begins to melt, about 5 minutes.

In a large bowl, combine olive oil, vinegar, mustard and honey. Whisk briskly until emulsified, about 1 minute.

Drizzle the dressing over the flatbread and season with a pinch of salt and pepper. Slice and serve.
Serves: 8 
Prep Time: 15 minutes
Cook Time: 15 minutes