Chorizo Naan Breakfast Pizza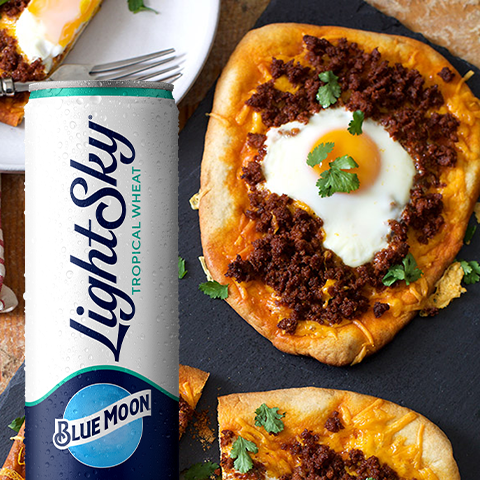 PAIRS WITH BLUE MOON LIGHTSKY TROPICAL WHEAT
Brewed with pineapple and orange peel, the beer's fresh finish contrasts bold chorizo and sharp cheddar.
Ingredients
12 ounces Mexican pork chorizo
4 naan flatbreads
4 ounces sharp cheddar cheese, shredded
4 large eggs
Cilantro leaves for garnish
Preparation
Preheat oven to 400°F.
In a skillet over medium-high heat, sauté the chorizo until cooked through. Drain the remaining fat from the chorizo.
Place naan on a baking sheet. Sprinkle one ounce of cheese on each slice of naan and top with a portion of chorizo. Crack one egg in the middle of each naan and bake for 10 minutes or until the egg whites are set and the yolk is still runny. Season with a pinch of salt and pepper and garnish with cilantro, if desired. Serve.
Note: Chorizo can be sautéed a day ahead of time and stored covered in the refrigerator.
Serves: 4
Prep Time: 10 minutes
Cook Time: 10 minutes