Osaka moon chicken burger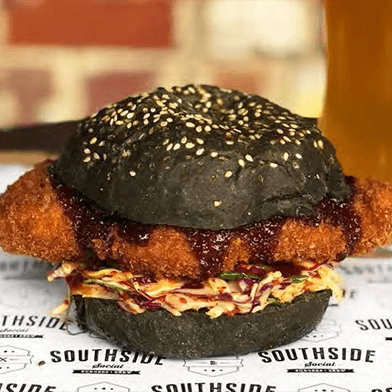 Ingredients
Chicken
2 medium to large chicken breast 
1 litre Blue Moon beer
Zest and juice of 1 orange
1 knob of ginger peeled and zested 
4 peeled cloves of garlic
4-star anise
4 cloves
1 cinnamon stick
1 tbsp coriander seeds 
1 tbsp cumin seeds
Cracked black pepper to taste
Slaw
4 white cabbage leaves finely sliced
2 red cabbage leaves finely sliced
1 long red chilli fine angle sliced
4 tbsp Japanese Chilli Mayo
Crumb
½ cup rice flour
4 eggs mixed with ½ cup of milk
2 cups Panko bread crumb
Japanese Chilli Mayo
1 tbsp Shichimi (Japanese chilli pepper)
1 cup Kewpie mayo
Salt and pepper to taste
Extras
4 medium to large charcoal buns
Preparation
Chicken
Butterfly the chicken breast into two pieces (four in total).  In a small deep baking tray place the chicken and pour enough Blue Moon beer to just cover the top of the chicken.  Add the orange zest and juice, ginger, garlic, star anise, cloves, cinnamon, coriander and cumin seeds, and pepper.  Place a sheet of baking paper over the top then cover with baking foil. Place in the oven at 180oC for 1 hour
Check the chicken by making a small cut on the thickest part. Clear juices should run from the chicken.
Allow the chicken to cool while in the liquid (no longer than 30 mins). It can be stored for up to 3 days.
Crumb the chicken by lightly coating it in rice flour then dipping it in the egg wash then coating in Panko crumb. Fry the crumbed chicken in vegetable oil until golden.
Slaw
Just before serving mix all ingredients together. Season as needed.
Japanese Chilli Mayo
Mix the Shichimi with the Kewpie and season with salt and pepper.
On a lightly toasted charcoal bun top with the slaw and chicken. Serve with an ice cold Blue Moon Belgian White!