Hot dog with orange bbq sauce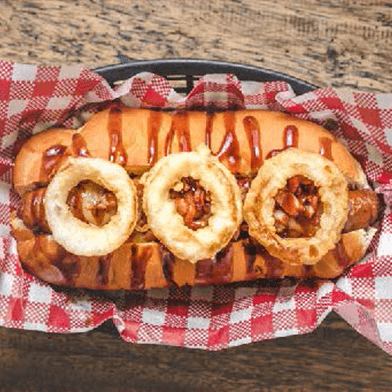 Ingredients
3 cups tomato sauce
1/2 cup orange juice 
1 tsp seeded mustard 
1/4 cup brown sugar 
1 tsp sriracha
1/4 cup Worcestershire sauce 
1 tsp diced ginger
1/2 diced brown onion 
1 clove diced garlic 
10ml oil
8x rashers bacon 
3 tbsp honey
125g self-raising flour 
1 egg
1tsp garlic powder 
1tsp black pepper 
375ml Blue Moon
400 ml Vegetable oil 
(to fry the onion rings) 
8x hotdog buns
8x beef sausages 
150g jack cheese
Small bunch coriander
8x hotdog buns
Preparation
Method for Orange BBQ Sauce
Sauté off the onions, garlic and ginger in a saucepan. Add all other ingredients, mix together and bring to the boil.  Once boiling, turn down the heat and simmer for a further 20 minutes until the sauce thickens, stirring occasionally.
Method for Honey Bacon
Preheat oven to 190 degrees. Finely dice the bacon and add to a tray with baking paper. Drizzle the bacon with honey and toss through, bake for 25 minutes until golden brown, stirring occasionally. Remove from the oven and drain off excess fat.
Method for Onion Rings
Heat oil to 180 degrees in a saucepan. In a bowl, combine the flour, egg, garlic powder, pepper and mix. Slowly whisk in the Blue Moon until you arrive at the desired texture. Slice the onion into thick rings, dip into the beer batter then add to the hot oil for 1 minute on each side. Cool until golden brown, turning once.
Place sausages into the oven at 190 degrees and for 20-25 minutes, turning once half way through.
Slice buns down the middle, add jack cheese and place in the oven for a couple of minutes (or until cheese is melted) to melt. Add beef sausage, sprinkle with honey bacon, drizzle of orange BBQ sauce. Top with onion to garnish.