Grapefruit and Tangerine Broccoli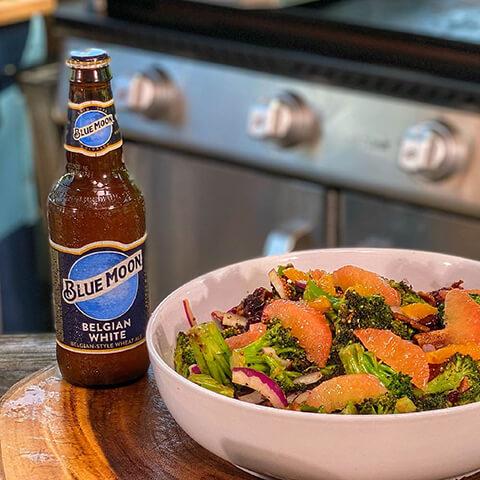 PAIRS WITH BLUE MOON® BELGIAN WHITE
The subtle sweetness of Blue Moon Belgian White® brings balance to the rich flavor of bacon and elevates the citrus notes from grapefruit and tangerine.
Ingredients
1 pound Bacon
1 pound broccoli florets
Blackstone Lemon Peppercorn Seasoning
The juice of 1 lemon
1 grapefruit cut into segments (save the leftover fruit)
2 tangerines cut into segments (save the leftover fruit)
1 tablespoon whole grain mustard
1 tablespoon mayonnaise
1 tablespoon sherry vinegar
¼ cup Blue Moon® Belgian White
1 red onion, julienne
1/3 cup craisins
Olive oil
Preparation
Cook your bacon extra crispy and drain on some paper towel.
In the remaining bacon fat, add the broccoli and cook for 4-5 minutes over medium heat. Add a bit of Blackstone Lemon Peppercorn seasoning and toss often to evenly distribute the bacon fat.
In an extra large mixing bowl, add the lemon juice, squeeze the leftover grapefruit and tangerines, add the mustard, mayonnaise, vinegar and a drizzle of olive oil and whisk to evenly combine.
Add Blue Moon® Belgian White to the broccoli and toss to evenly coat. Add a dome or cover the let the broccoli steam for 2 minutes.
Add the broccoli to the bowl with the vinaigrette. Chop the bacon and add to the bowl. Add the onions and craisins and toss gently to evenly coat.
To serve, add everything to a family style platter, pour the remaining vinaigrette over the top and garnish with the grapefruit and tangerine segments.
Serves: 4