Grilled scallops with orange sriracha butter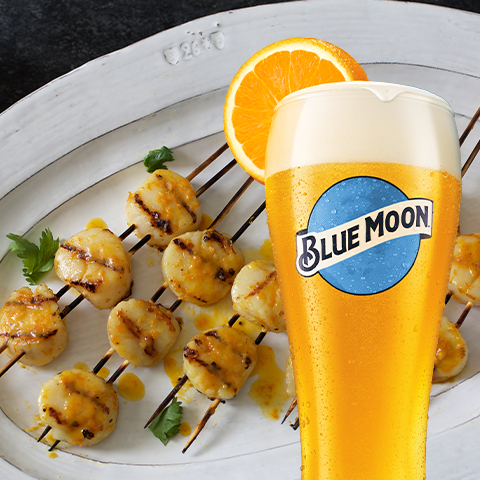 PAIRS WITH BLUE MOON® BELGIAN WHITE BELGIAN-STYLE WHEAT ALE
Notes of Valencia orange peel brighten scallops' delicate flavor and contrast spice.
Ingredients
6 tablespoons unsalted butter, softened
1 tablespoon (packed) orange zest
2 teaspoons kosher salt, divided
2 teaspoons Sriracha sauce
18 to 24 scallops (4 small or 3 large scallops per serving)
1 tablespoon canola oil
Bamboo or metal skewers
Preparation
Preheat grill to medium-high heat.
In a bowl, stir to combine butter, orange zest, 1 teaspoon of salt and Sriracha sauce.
Dry scallops with paper towels and toss in canola oil. Skewer scallops and season with remaining salt. Grill 90 seconds per side, then transfer to a serving platter and brush with butter immediately.
Serves: 6
Prep Time: 20 minutes
Cook Time: 3 minutes