Stone Fruit Panzanella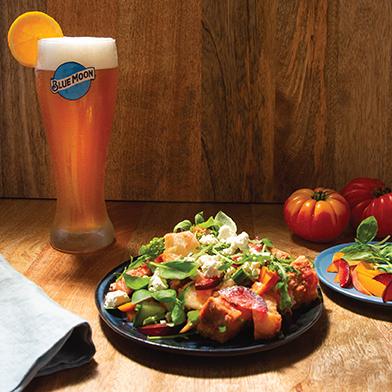 Serves
2 as a main, 4 as an appetizer
Ingredients
5 cups ciabatta bread, diced in 2-inch cubes
2 large heirloom tomatoes
½ seedless English cucumber, large dice (about 1½ cups)
6 oz sheep's milk feta, crumbled
3 cups fresh stone fruit (peaches, plums, apricots, nectarines, etc.) pitted and cut into large pieces
1 cup loosely packed basil leaves, roughly torn
¼ cup loosely packed chives, cut into 1-inch pieces
½ tsp kosher salt
¼ tsp black pepper
¼ cup extra virgin olive oil
1 cup baby arugula
Preparation
Preheat oven to 400 degrees. Place the bread on a cookie sheet. Place the cookie sheet on the middle rack in the oven and toast the bread cubes until golden and super crunchy, about 25 minutes. Meanwhile, cut the heirloom tomatoes in half. In large mixing bowl and place a box grater inside the bowl, take the tomato half in your hand and grate the cut side of the tomato on the box grater. Use the bowl to collect the grated tomato. Discard the peels. Then add the feta, stone fruit, cucumber, basil, chives, extra virgin olive oil to the bowl. Season with salt and pepper and stir well to combine. Let the mixture marinate while bread is toasting. Add warm toasted bread to stone fruit mixture and toss thoroughly.
SERVING SUGGESTION
Spoon salad into a nice shallow bowl and garnish with baby arugula.
Serve family-style and enjoy!
PAIRING NOTES
The sweetness of the stone fruit enhances the sweetness from the Valencia oranges brewed in the Blue Moon Belgian White. The tang from the feta and crunchy bread keep you coming back for more!