Agave Moon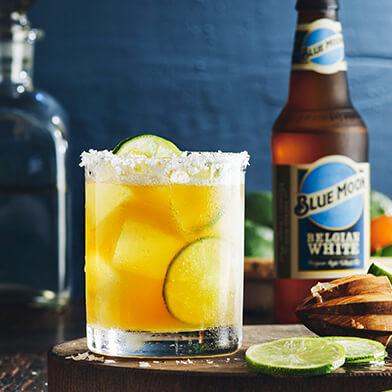 Ingredients
5oz Blue Moon® Belgian White Belgian-Style Wheat Ale
1oz Tequila (or Mezcal depending on preference)
1oz Pineapple Juice
1/4oz Lime Juice
Garnishes
Lime Wheels
Margarita Salt
Method
Salt the rim of a double old-fashioned glass and set aside.
Shake the tequila, pineapple juice and lime juice with ice and strain into the glass over ice cubes.
Drop a few lime wheels into the glass.
Top with Blue Moon® and stir gently, to preserve carbonation.
Brewmaster's Note
Pineapple and lime juices provide a bright, tropical element that blends perfectly with the Valencia orange peel in Blue Moon.
The coriander notes in Blue Moon enliven tequila's earthy/spicy flavor profile.
The citrus juices bring out the bright flavor in tequila.