Island Moon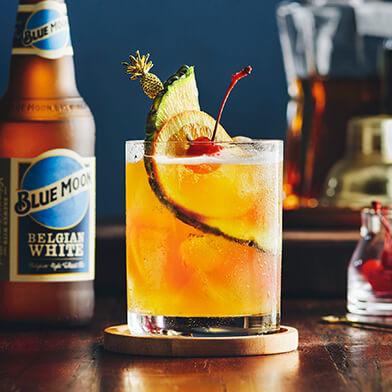 Ingredients
7oz Blue Moon® Belgian White Belgian-Style Wheat Ale
2oz Spiced Rum (or Dark Rum, depending on preference)
3oz Pineapple Juice
Garnishes
Orange Wheel
Pineapple Wedge
Maraschino Cherry
Method
Gently shake the rum and pineapple juice with iceand strain into a double old-fashioned glass over crushed ice.
Top with Blue Moon and stir gently, to preserve carbonation.
Serve with the fruit stacked on a cocktail pick.
Brewmaster's Note
The Valencia orange peel in Blue Moon provides a bright, slightly sweet flavor that balances well with pineapple juice.
The warm, slightly spicy coriander notes in Blue Moon elevate the spiced rum.