Grilled Shrimp Bruschetta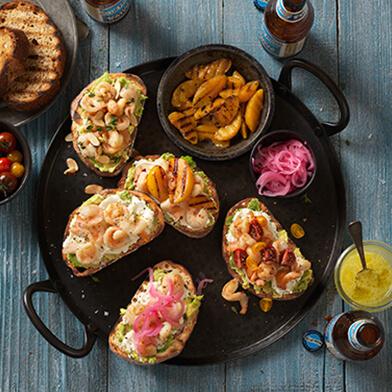 Ingredients
1 unsliced loaf of whole-grain sourdough bread
1 12-oz bottle Blue Moon® Belgian White Belgian-Style Wheat Ale
¾ cup olive oil
1 tbsp. mustard
1 lb. large shrimp (about 16), cleaned and halved lengthwise
2–4 ripe avocados, mashed or sliced
1 cup ricotta cheese
Chili flakes, to taste
Preparation
Slice the bread into eight thick pieces and toast or grill until browned.
Make a vinaigrette by whisking together the Blue Moon Ale, olive oil, and mustard in a medium bowl. Set two tablespoons aside.
Arrange the toast slices on a platter and liberally brush with the vinaigrette. (You will not use all of the vinaigrette.)
Toss the shrimp with the reserved 2 tablespoons of vinaigrette, and then sauté them until just cooked through.
Top the toast slices with avocado, ricotta, and shrimp.
Drizzle a small amount of remaining vinaigrette on top.
Finish with chili flakes and your choice of garnish, season with salt, and serve.
Suggested garnishes: grilled peaches, sliced jalapeño, toasted almonds, fresh herbs, pickled red onion, smashed cherry tomatoes, or orange zest.