Lemongrass Coriander Shrimp Cocktail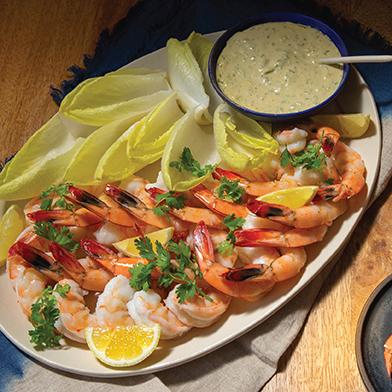 Serves
2 as a main, 4 as an appetizer
Ingredients
2 pounds large fresh shrimp, peeled and deveined, tail on
2 tbsp coriander seeds
8 cups water
3 tbsp salt
2 stalks lemongrass
6 bay leaves, dried
1 lemon, halved
2 tbsp olive oil
1 tbs Jalapeño Dijonnaise
2 heads red or Belgian endive
INGREDIENTS (JALAPENO DIJONNAISE)
2 large jalapeño peppers
3 tbsp cilantro, chopped plus 4 sprigs for garnish
1 cup mayonnaise
1/2 cup dijon mustard
Zest of 1 lemon
1 tbsp lemon juice
¼ tsp kosher salt
¼ tsp cracked black pepper
Preparation
To make the poaching liquid, in a 4 qt pot, combine water, salt, coriander, and dried bay leaves and olive oil. Using the back of your knife, hit the lemongrass to bruise and break it up into pieces and then add it to the pot. Squeeze the lemon halves into the poaching liquid and add them to the pot. Once the poaching liquid comes to a boil, turn the heat off and steep for 5 minutes. Place shrimp into a large bowl (enough to hold the shrimp and poaching liquid) and carefully pour and strain the poaching liquid over the shrimp. Poach for about 25 minutes, gently giving the shrimp a stir every couple of minutes so they poach evenly. The shrimp will cook slowly from the poaching liquid. You'll know they're done when they're pink and firm and the inside is a solid white opaque. Drain the shrimp and serve immediately. However, the shrimp are delicious served chilled, up to 24 hours after poaching.
PREPERATION (JALAPENO DIJONNAISE)
Preheat your oven on the broiler on high. Place jalapeños on a baking sheet and put on top rack of the oven underneath the broiler to char. Bake for 6 minutes, flipping halfway through. Carefully peel away the charred skin from the jalapeño. Slice in half lengthwise and remove the seeds, and finely chop the jalapeño. In a medium mixing bowl combine mayonnaise, Dijon mustard, chopped jalapeños, chopped cilantro, lemon zest and juice, salt and pepper.
PAIRING NOTES
Blue Moon Belgian White beer goes great with spicy foods! Leave the seeds in the
jalapeño if you like more spice! I also love the coriander and lemongrass paired with the flavors of the beer. They bring out the citrus notes in the beer, and keep you going
back for more!
SERVING SUGGESTIONS
To serve, arrange the shrimp on a platter
with the endive cups and cilantro sprigs and serve the Jalapeño Dijonnaise on the side.