Mediterranean Chicken Skewers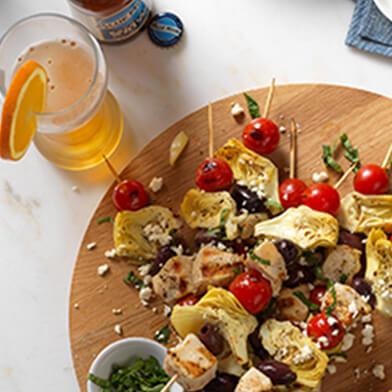 Ingredients
1 bottle (12-oz.) Blue Moon® Belgian White Belgian-Style Wheat Ale
2 large chicken breasts
15 – 20 large black olives
1 8-oz. block of feta cheese (cut into 2-inch cubes)
8 cherry tomatoes
8 large whole artichoke hearts
4 wooden skewers that have been soaked in water
Extra virgin olive oil
1 tbsp. Greek seasoning
3 cloves garlic, minced
1/2 tsp. black pepper
Preparation
Cut chicken into 2-inch cubes.
Combine beer, 1/4 cup extra virgin olive oil, garlic, and black pepper in a bowl. Whisk to combine.
Add chicken cubes to marinade, toss to coat, then cover and refrigerate for 30 – 60 minutes.
Place chicken, olives, feta, tomatoes, and artichoke on skewers.
Brush with olive oil and sprinkle evenly with Greek seasoning.
Grill until chicken is cooked through (about 10 -12 minutes).
Serve with basmati rice or mixed-greens salad.