Spicy Blue Moon Fried Chicken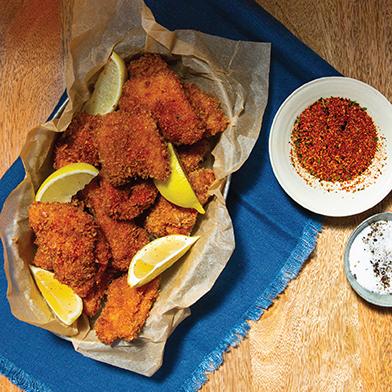 Serves
2 as a main, 4 as an appetizer
Ingredients
2 lbs boneless, skinless chicken thighs
Approx. 4 cups vegetable or peanut oil for frying
2 cups panko crumbs
2 tablespoon of togarashi
Lemon wedges for serving
1 tablespoon of sea salt (for serving)
1 tablespoon of ground white pepper (for serving)
INGREDIENTS (BATTER)
2 eggs lightly beaten
¼ cup low sodium soy sauce
1 bottle of Blue Moon Belgian White
1.5 cup mochiko flour
1 Tbsp + 1 tsp cayenne pepper
1 ¼ Tbsp of sea salt
1½ Tbsp of ground white pepper
¾ Tbsp of Chinese thirteen-spice powder
¼ cup cornstarch
6 garlic cloves, minced
Preparation
Cut chicken into 2" pieces. Mix batter ingredients together in a large bowl. Toss chicken in batter, ensuring all pieces are well-coated. Pour chicken and batter into a ziplock bag or well-sealed container. Make sure all the chicken is submerged. Refrigerate for at least 12 hours (24 hours is best). When you're ready to fry the chicken, take out of the refrigerator and roll each piece in panko bread crumbs. Let the chicken sit on a wire rack so the coating can stick. (If you fry immediately, coating tends to slide off.) Heat the vegetable oil at medium to 350 degrees in a deep skillet with a lid until it simmers. (There should be enough oil to cover the chicken pieces half-way.) Carefully let excess batter drip off before placing the chicken in the hot oil. Do not overcrowd the pan. Overcrowding will bring the oil temperature too low, which results in oil-laden chicken. Cook on one side for about 2 minutes, or until golden brown. Then flip the pieces and cook for another 2 minutes. Cooking times may vary depending on thickness of pieces. Internal temperature should reach 165 degrees. Place fried chicken on a wire rack to drain excess oil. Once the oil has drained off, place the fried chicken in a bowl and toss with the togarashi before serving.
PAIRING NOTES
This dish is excellent with a cold Blue Moon Belgian White because the Asian spices, especially the togarashi with orange peel, play nicely off of the citrus and coriander notes of the beer.
SERVING SUGGESTION
Serve fried chicken pieces with lemon wedges and a traditional salt & white pepper seasoning (equal parts salt & pepper). Feel free to add other ground peppers to the seasoning, such as cayenne or sichuan peppercorn.